Birthday Party
To book a Birthday Party please call 01983 861110
Information required
Birthday boy/girl name
Number of boys / girls and adults
Animal for the encounter

Join us at The Adventurers Cafe for fun and games and a freshly prepared party lunch, where the party will be visited by a special guest as you have a close up and personal animal encounter. The birthday boy or girl can then take their guests around the zoo for a truely wild day out, and then if you've still got the energy your party can let off steam on our huge jurrasic playgound. A fun packed day that will be a birthday you will remember for years to come.
Example Birthday Package
Arrive at Zoo 10.00am
Party meets up at the picnic benches by playgound.
Party organiser checks in all the party whilst children make use of the playgound or wander around the zoo.
11.00am Party assemble in the party area of The Adventurers Cafe.
11.15am Pass the Parcel with a gift for everyone.
11.45am Took in to the freshly prepared lunch.
13.30pm A Special Animal Encounter for your party.
14.00pm The party can now take a look around the zoo.
16.30pm Party guests recieve their goody bags.
If you have any time at the end the party can let off steam on the playgound.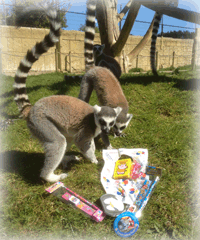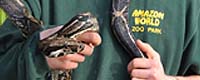 Ring to make a Birthday Package to suit you. 01983 861110
You have a choice of Animals for your encounter, a Macaw, Snake or Armadillo.
Birthday Package costs &pound13.00 per child 3-14 years old. 1 free adult per every 5 children. &pound8.00 per additional adult.YOU RECIEVE birthday lunch for the children, pass the parcel available at an addition cost of &pound3.00 per party. Goody bags. Animal encounter. Admission to the zoo. An animal adoption for the birthday child. Minimum 6 children. 50% none refundable deposit required one week before party. There can be more than one party going on per day.

Animal Adoption

Find out about how you can help protect endangered species through our animal adoption program here at Amazon World Zoo Park. Read more...